Peabody's Jewish Community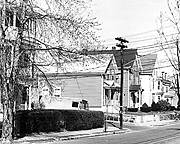 Neighborhoods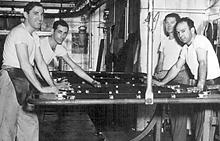 Workplaces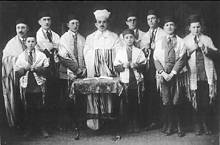 Worship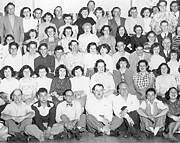 Community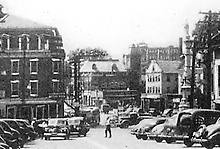 Downtown
The article on which this history is based appeared in the Peabody Times on October 2, 1968. It was updated and revised in October 2002 by author M. Irving Herbster's son, Avrom J. Herbster, with assistance from Irving Sacks. Thanks to Tom Grelish, also, for information on Jewish athletes. Keep in mind that when the author refers to the present in the earlier part of the article, he is referring to Peabody in 1968.
T HE JEWISH PEOPLE OF PEABODY, MASSACHUSETTS, in its 72 year history, have been unique in that they have from their earliest beginning participated with their energies and zeal in the civic, social, cultural, mercantile and industrial life of our city, while at the same time maintaining their own religious and social identity which probably gave them the strength and courage essential to their continued life.
The first known Jewish settlers in Peabody were Louis Karelitz and Charles Halpert, who came here in 1896 from Russia. At the turn of the 20th Century, there were about 15 families, and, by 1909, these were increased to about 100 families from Russia, Poland, Lithuania and Germany. Many of them came to Peabody, which was the largest leather manufacturing area in the United States because of their experience in leather work in their native towns. Then, other relatives and friends came to join them and escape from the threat of war that hung over Europe in 1914. A few years later, others immigrated here to start a new life in America after World War I and the Russian Revolution had destroyed their native homes and families. By 1920 there were about 200 families here, and they kept increasing to 350 families during the succeeding 20 years, as many were fortunate to get out of Germany and Poland before the Nazi Holocaust reached them.
A group of Sephardic Jews, about 5 families, came to the Peabody-Salem area from Turkey — around 1906. In 1919 about 15 more families came here from Turkey and these 20 families formed their own community, maintaining, even now, their own customs and Hebrew dialect. Among the early family were Eskenas, Gibely, Leon, Havian and Bencangi.
First Tannery
Meanwhile some Jewish residents became merchants and manufacturers. The earliest leather manufacturer was Max Korn, having moved his tannery from Salem to Walnut Street in 1914. Some years later Aaron Strauss, David Kirstein and Max Kirstein founded tanneries. Harry Stahl established the Stahl Finish Co. and many other smaller leather processing businesses were started. Among the earliest merchants were Louis Karelitz and Jacob Remis in furniture; Michael Bernstein's Bakery; Joseph Robinson, Isenberg, and Ostroff owned department stores, the latter being the predecessor to I. Alpers' present store on Foster Street; Ellis Elmont, Aaron Klivansky, Samuel Komarin, Abraham Kaplan and Harry and Max Herman had shoe stores, the latter still in business on Main Street; David Rosenfelt and Joe Levin in haberdashery; Sidney Lippa in transportation. Simon Rosen started in the shoe repair business, later in bicycles, radios, and hardware. Samuel Rafey in hardware; M.P. Stone and Barnet Smidt in coal; Louis Waisberg, Abraham Hoffman, Harry and Sam Bacherman, Solomon Herbster, Azriel Spatrick, and Michael Shaktman operated the first grocery stores: Sam Pitcoff ran Sam's lunch on Foster Street for many years; Samuel Goldberg constructed the Sons of Israel Synagogue in 1913 and many houses in the East End; Samuel Marron built many of the houses in South Peabody during the twenties; Charles B. Smidt built the houses on Smidt Avenue and several apartment buildings in Peabody and Salem; Samuel Tanzer had a blacksmith shop in the early years; Sol Droitiner was a real estate agent; Louis Glass, who ran a grocery store served often as an interpreter for many who had not yet learned the English language; Charles Halpert and Raymond Bacherman operated steamship travel agencies; Samuel Chiplovitz was a cattle farmer; Morris and Nathan Goldstein and Samuel Ainbinder were butcher shop owners; and Morris Beres and Zundel Lampert were the first fruit and vegetable peddlers.
The earliest professional men were: Attorney Elihu A. Hershenson who began practicing law in Peabody in 1912, continuing to the present day; Dr. Harry Halpern in the general practice of medicine, and Dr. Leavitt was the first Jewish dentist.
Population Doubles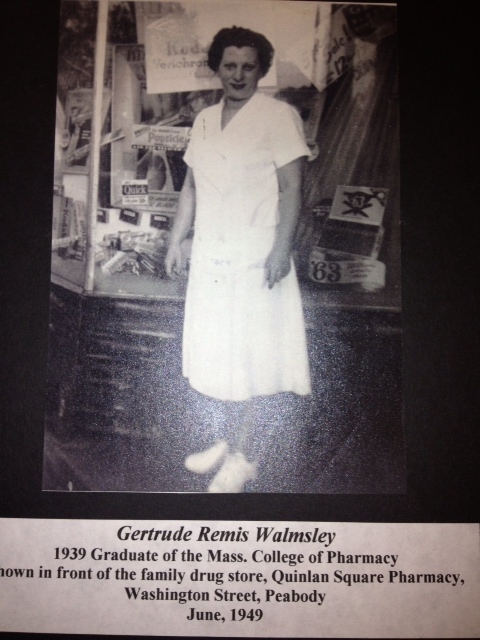 Following World War II, the Jewish population of families stood at about 400 until the housing developments began to grow in the 1950's. Then, as the city's entire population doubled within a decade, so did the numbers of Jewish people. Engineers, technicians, and other young professional men made their homes here, and by 1960 there were about 800 families. Today, it is estimated that there are more than 1200 Jewish families in the City, many living in the new West Peabody and South Peabody areas, but generally integrated throughout the entire city and participating in all facets of our entire community life.